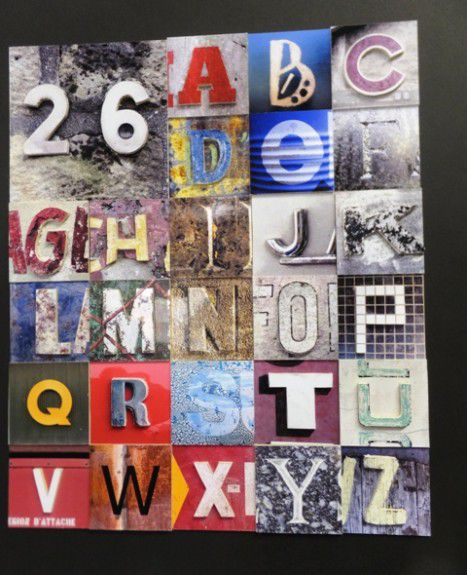 "Alphabet" by artist Isabel Gueunet-Salvucci, on display at the
Abécédaire exhibit in Bergerac through Oct. 11, 2014
"W" by painter Catherine Alcaraz-Klein
An invitation from the organization Les Métiers d'Art en Pays de Bergerac entices me to take an afternoon drive to Bergerac to view an exhibition entitled "Abécédaire."
"V" by sculptor Béatrice Bauchart
"M" by artist Marie-Lise Duédal
"À" by sculptor Kathy Garrigue
The "Abécédaire" project was conceived in 2010 when 45 artists from the Pays du Grand Bergeraçois region interpreted the letters of the alphabet in a variety of artistic mediums. More than 3,000 visitors visited the traveling exhibition in a half dozen Perigord venues in 2010 and 2011.
"Abécédaire" runs through Oct. 11 at la Médiathèque, specifically on the fourth floor inside Bergerac's impressive public library on Place Bellegarde. Hours are Tuesday and Friday 2-6 p.m.; Wednesday 9:30 a.m. to 12:30 p.m. and 2-6 p.m.; and Saturday 9:30 a.m. to 12:30 p.m. and 2-5 p.m. For more information visit
artisandart-perigord.com
.