Every city has a heart, but there may be none so distinct as the Place du Capitole in Toulouse. Mayor Jean-Luc MOUDENC, in the informative tourism pamphlet, warns visitors: "… you musn't call it the 'Hôtel de Ville"… Toulousains call it 'Capitole'!"
Place du Capitole encompases 5 acres and includes a vast, bustling plaza, city hall offices, and the city's opera house. Toulouse's Office de Tourisme is located just behind Capitole in the le donjon, which was built in 1525, so this is the logical starting point for visitors to La Ville Rose.
Exterior detail of Toulouse's Place du Capitole
Marble statues and columns adorn the Capitole's façade, which was designed by architect Guillaume Cammas in 1750-1760. Pass through the portal designed in 1546 by Renaissance artist Nicolas Bachelier and enter through glass doors on your left. At the foot of the great stairway, which was installed in 1912, sits a bust of Jean Jaurès, leader of the French Socialist Party.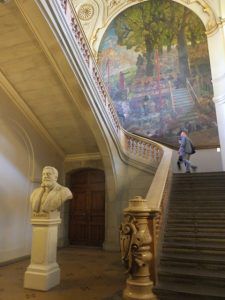 A bust of Jean Jaurès by sculptor Paul Ducuing sits at the base
of The Great Stairway in Toulouse's Capitole.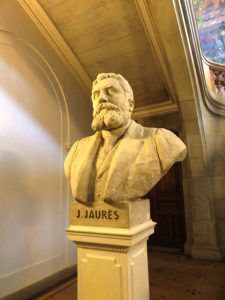 Bust of Jean Jaurès by sculptor Paul Ducuing
The walls of the stairway were decorated by artists Jean-Paul Laurens and his sons Pierre and Paul-Albert. (With his affinity for history, J-P Laurens painted many public buildings including the steel vault of Paris's Hôtel de Ville and a series of paintings on the life of Saint Genevieve in the apse of the Panthéon.)
Make your way through the Salle Gervais at the top of the stairs. On the day of my visit, an exhibition of the French Resistance is on display so I am unable to admire the allegores of love by the artist Paul-Jean Gervais. I slowly browse the exhibits and then enter the jaw-droppingly beautiful Salle des Illustres.
The vast Salle des Illustres in Toulouose's Capitole
Originally conceived in 1674, the vast room was redesigned in the 1800s. The room contains 15 paintings including La Belle Paule at her balcony by Henri Rachou. I am drawn to this particular painting, even more so when I later come across a legend involving its subject.
La Belle Paule appears to be gazing out upon the
Place du Capitole in Toulouse.
When King Francis I came to Toulouse in 1533, a 15-year-old girl named Paule de Viguier was chosen to hand over the keys to th city to the king. She was so beautiful that she was nicknamed La Belle Paule. Even after the king left town, La Belle Paule was asked to appear at his window twice a week to appease the throng of admirers. Later, she married a magistrate. Her legendary beauty withstood time as she was still a celebrated attraction when King Charles visited Toulouse 31 years later. It is said that when she died in 1610, her body was preserved and displayed at L'église de Cordeliers de Toulouse (the Franciscan Church of Toulouse), where no women were allowed to visit and pay their respect.
A dozen busts of notable Toulouse citizens reside along the walls of the Salle des Illustres. One subject, Pierre-Paul Riquet, is notable for constructing the Canal de Midi.
Monument à Pierre de Fermat by Denis Trente-Huittessan
at the Capitole in Toulouse
Another piece of art that tickled me was a sculpture of Pierre de Fermat, who appears to being pretty tickled himself. Fermat was, among other things, an amateur mathematician whose work is credited with the development of infinitesimal calculus … something I note here because I know it would have made my dad proud.
The interior of Toulouse's capital is free to visit and is open 8:30 a.m. to 7 p.m. Monday through Saturday, 10 a.m. to 7 p.m. Sunday and holidays. It is closed on December 25, January 1, and occasionally for private ceremonies. Visit the Toulouse Tourism website
here
for more information.