We have been enchanted with our forays into the Massif Central. Recently were took a three-day trip to the northeastern corner of the region: not nearly enough time to exhaust its many delights. A reader of mine suggested that I visit her neighborhood: the lovely city of Aubusson, located nearly in the center of France in le département de la Creuse in the Limousin region.
Until I received Karin's note, I had never heard of Aubusson, and now it is a destination that I'm likely to visit again. This charming city is France's capitale de la tapisserie. Its designation as an UNESCO Intangible Cultural Heritage of Humanity site honors Aubusson's five centuries of tapestry making.
Here's a view of Aubusson from la Tour de l'Horloge
Weavers, refugees from Flanders, arrived in Aubusson around 1580 and brought their craft with them. The industry thrived until around the time of the French Revolution, or more specifically, when wallpaper became fashionable. In the 1930s, modern artists including Salvador Dali, Alexander Calder, Georges Braque, Jean Cocteau, Raoul Dufy and Pablo Picasso, revived tapestry-making by incorporating the technique into their art.
Visitors who are seeking the secrets of tapestry-making will find several venues. La Maison Du Tapissier is located just above the tourist information office. A free exhibit at the Hôtel de Ville showcases the work of Marc Vaugelade through the end of August; be sure to pop upstairs to the salon du mariage to see (and sit on) the tapestry upholstered-chairs. Several factories in town offer tours of their tapestry-making enterprises.
Aubusson's Hôtel de Ville is hosting a free exhibit of Marc Vaudlade
tapestries through Aug. 2014.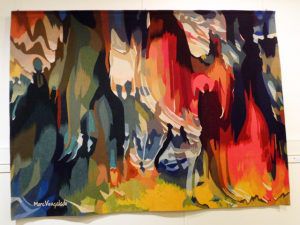 This tapestry by artist Marc Vaugelade was on display in Aubusson.
The Musée de la Tapisserie currently houses a signficant portion of Aubusson's tapestries. Here, visitors can comfortably stroll among myriad tapestries from the 17th through 21st centuries. Exhibition space was tripled after my visit when the new cité de la tapisserie opened in 2015.
A loom is on display at Musée de la Tapisserie, Aubusson.
And here's the other side of the loom pictured above at Aubusson's Musée de la Tapisserie.
This is one of many tapestries on display at Aubusson's Musée de la Tapisserie.
Aubusson's Musée de la Tapisserie is a beautiful setting for its tapestries.
For more information about Musée de la Tapisserie, click
here
.
There's more to the lovely petite ville of Aubusson than tapestry. There are no shortage of sites to see on our after-lunch promenade. At least a half-dozen gallery workshops welcome visitors. Catch your breath on the Pont de la Terrade before hiking up to La Tour de l'Horloge, an ancient fortification, where you'll be rewarded with beautiful views. More views await at the nearby ruins of an 11th century château, considered to be a remarkable medieval castle before it was destroyed in 1632.
Climb to la Tour de l'Horloge for a great view of Aubusson.
We enjoyed a delightful walk along the Creuse river in Aubusson
C'est moi, on le Pont de la Terrade.
For more on Aubusson tourism, click
here
.