Sometime between mid-August and mid-September, prunes will be harvested in the Lot-et-Garonne, and I can't think of a better time of year to visit the Musée du Pruneau. This attraction has been on my to-do list for two years and I seized the opportunity to visit last month when we had some visitors.
Poster on display at Musée du Pruneau
I'm a sucker for museums that include food production. As a kid I loved visiting the Utica Club brewery and the Hershey's chocolate factory (before the lucious-smelling factory changed into the sanitized Hershey's Chocolate World Attraction).

The Musée du Pruneau is deliciously low-tech. After a short orientation, our foursome is ushered to our first stop, a large room containing all sorts of prune-drying ovens. The piped-in commentary is in French, but we have been provided hefty English translations. We are encouraged to touch some of the displays in this and the next room, where our pre-recorded guide tells us the story of prune production.
Display at Musée du Pruneau
We also peruse displays of prune packages and farm equipment. Several of the displays are life-size diorahmas with mannequins demonstrating skills like prune sorting and packaging.
Display at Musée du Pruneau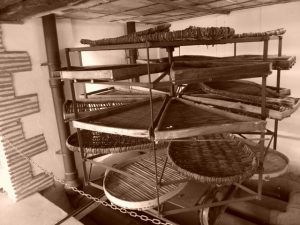 Drying baskets on display at Musée du Pruneau
We freely wander through the production facility that is used today. Well, not actually "today" since "today" there's just one worker who is doing some sort of maintenance.Visit during the harvest, and this room will surely be a hub of activity.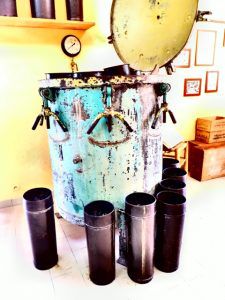 Equipment on display at Musée du Pruneau
Display at Musée du Pruneau
Next, our party is taken to a small theater where a nicely-produced film with English sub-titles shows how prunes are grown and harvested, and how all those prune treats are created. The low-key sales pitch has been successful and when we get to the boutique, we are eager to buy some
confiseries pruneau
to take home.
Boutique at Musée du Pruneau
Items for sale at Musée du Pruneau
Musée du Pruneau is located in Granges-sur-Lot and is open every day throughout the year. A corn maze is open July through September. For more information visit
musee-du-pruneau.com
.