A recent visit to the village of Rauzan in the Entre-deux-Mers area of the Gironde department teaches me a valuable lesson: Phone ahead. The town boasts two attractions — ruins of a large castle and cave leading to an underground river. Before we head out the door, I check the websites for both sites and they seem to be open year-round, but I should have read the fine print.
Entrance to Grotte Célestine in Rauzan
Grotte Célestine is the only underground river in the Gironde. The cave was discovered in 1845, then it was basically forgotten about for 60 years. Now, it is maintained and run by the village of Rauzan. Visitors to the cave are equipped with spelunking equipment including boots, helmets and headlamps. The 45-minute cave stroll includes stalactites, stalagmites and other underground splendors. We score a parking space right in front of Grotte Célestine, but it's closed and the sign on the door tells us that we should have indeed called ahead. No worries. There's more to explore in this pleasant little village.
Rauzan's Hôtel de Ville
We walk a few blocks to the center of town passing the Hôtel de Ville, a stately house built around 1862 by Arnaud Gillet. The village school is located just behind. Both the school and the town hall were inaugurated in 1895. A belltower was added in 1911.
Two blocks on, just pass Rauzan's center, we come to the tourism office, which, despite its posted hours, is closed. Hmmm ... I'm sensing a pattern. Just around the corner is the château. It too is closed, and we can see by the scaffolding, is undergoing extensive renovations. At least we can walk its periphery.
Château de Rauzan
Château de Rauzan was built by the English in the 13th century under the orders of King John Lackland and named for a knight, Bernard de Rauzan. In 1377 it was seized by Du Guesclin, and was transformed from fortress to castle in the 15th century by Bernard Angevin. Its dungeon served as the family residence until the 14th-century. The Tour of Honor houses the principle staircase and is built in the Gothic style. The view from the top offers a spectacular 360-degree view of this wine-growing area.
Château de Rauzan
Plants drape down an exterior wall of Château de Rauzan.
Ground floor window of Château de Rauzan
A bit of fall color at Château de Rauzan
From the edge of the château's grounds we spy L'église Saint-Pierre. The church was built in the 11th century and contains Gothic elements that were added in the 1400s.
L'église Saint-Pierre in Rauzan
Despite our disappointment at finding Rauzan to be pretty much closed for business on the day of our visit, we can envision its charms. The village hosts large antique markets twice a year (in April and October) and a return visit is already on my calendar for the spring.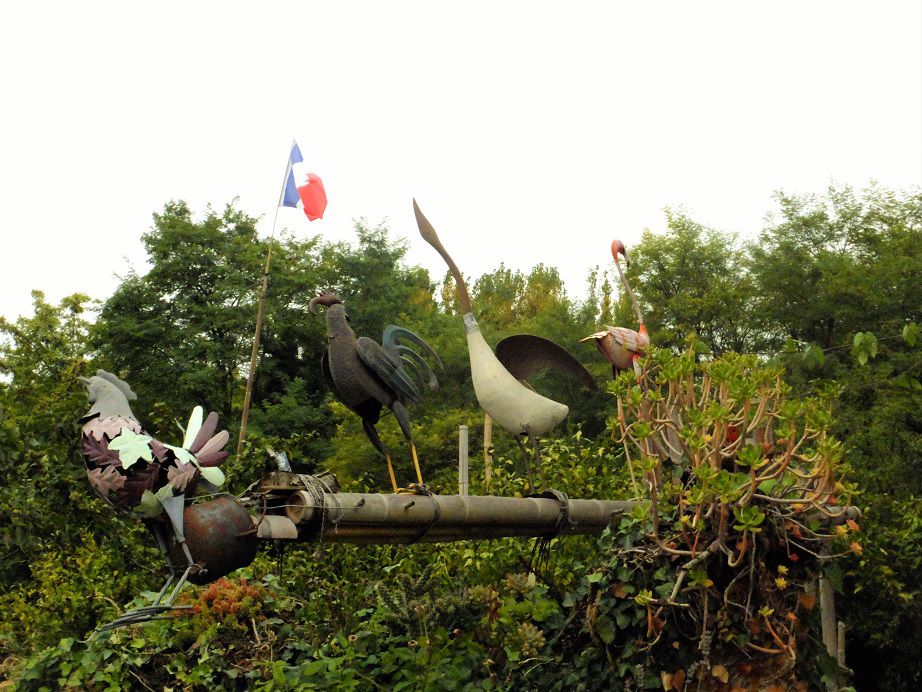 Birds perched in Rauzan
If you go
Rauzan is located in the Entre-deux-Mers region of the Gironde, 37 km from Bordeaux and 13 km from Saint-Emilion.
Grotte Célestine, 8 rue Lansade, is open all year round by appointment. Call at least 24 hours in advance, 05.57.84.08.69 or 05.57.84.03.88. Admission is 6.50€ adults, 5€ children. Children must be at least 1m20 tall.
Château de Rauzan, 12 rue Chapelle, is scheduled to be open each day except Mondays, but call ahead to make sure, 05.57.84.03.88. Admission is 3€ general, 4€ for a guided tour. Children under age 8 are free.