The village of Gensac in the Gironde department claims the official distinction of un village ancien. I am unsuccessful in my attempts to find out more about this classification, but I certainly agree that Gensac is old.
Ancient walls and cobbled streets in Gensac
On a recent day trip to the Entre-deux-Mers region, primarily known for growing grapes, we decide to stop in this village. It's kind of an afterthought. We've been driving all morning and are eager to find a village with an open
boulangerie
to satisfy my husband's craving for something savory, and mine for something sweet.
Gensac's main square in front of the Mairie
The weekly Friday morning market is over, and we find a convenient place to park in front of the Mairie. The town center has a few amenities, most notably the sought-after bakery. With
croque monsieur
and a slice of
gâteau aux amandes
in hand, we check out this area of town. I see a sign that says
museé
and I make a beeline for it.
Maison de Boulanger in Gensac
The museum, la Maison de Boulanger á Gensac, is dedicated to the art of bread-baking. It seems quaint and kind of quirky — my type of museum, but it is closed at the moment. Posted hours are Tuesday through Friday at 3:30 p.m. and Saturday at 4:30 p.m. If you go, call ahead, 05.57.47.46.67.
My husbands points out something that he knows will tickle my (cat) fancy: un gargouille de chat. I can't help but think of another village, la Romieu in the Gers department.
Click here
to read that blog post.
The corner of a building in Gensac
On the day of our visit, the autumn colors are just starting, and I take some pictures of the turning leaves and the valley views before we head to the old part of town.
Une petite ruelle in Gensac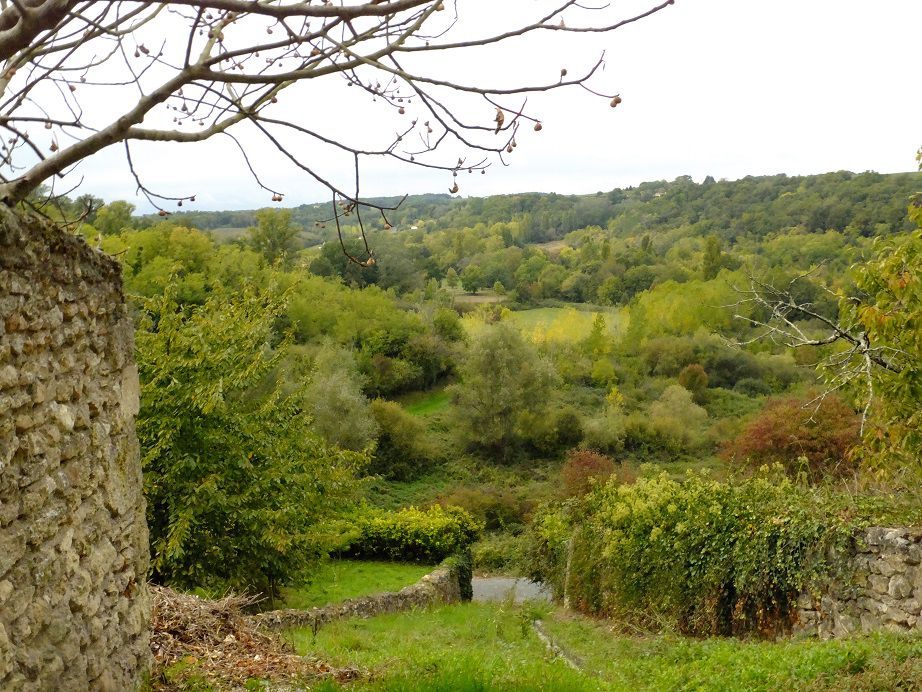 View from downtown Gensac
With its position overlooking two valleys, the Dordogne and the Durèze, the views from Gensac are quite pretty.
View from the other side of Gensac
The belltower of l'église Notre-Dame as seen from
behind the Mairie in Gensac.
A few blocks from away (in fact we nearly miss this part of the village, as we see the sign as we are driving out of town) is the ancient part of Gensac. We stay awhile longer to admire the medieval architecture and the exterior of L'église Notre Dame. The church's foundations date back to Roman times; the building itself is from the 19th century.
L'église Notre-Dame in Gensac
Gensac hosts numerous activities in the summer months, but it's quiet here this time of year. However, the town is worth exploring if you happen to be in the neighborhood. Gensac is located about halfway between (and a little south of) Sainte-Foy-la Grande and Castillon-la-Bataille, and 20 km north of Duras. Contact the Gensac tourism office to arrange a guided visit of the village, 05.57.47.46.67.