The village of Belcastel is perched on the slopes of the Aveyron river.
A common tale is that of a once-magnificent castle that falls into ruin. Thankfully, the story of the Château de Belcastel in Aveyron (12) has a much happier ending. In 1974 the famed architect Fernand Poullion purchased the château and began a massive restoration project. He encouraged local residents to help in the restoration of their village, and the result is un plus beau village — one of the most beautiful villages in France.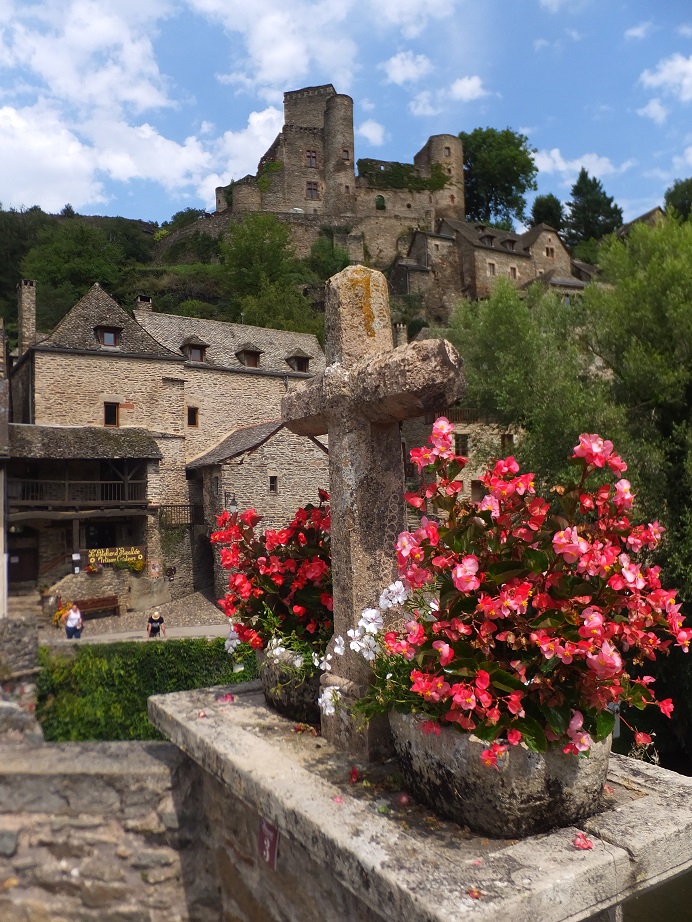 An unusual altar is found midway across Belcastel's stone
bridge. In the 15th century passersby would stop here
to pray and pay.
Pouillon, who was born in Cancon (47) in 1912, has a very interesting bio, from architectural projects in Marseille to a stint in jail and a prison break. (He eventually was acquitted of the original crime.) Pouillon's last years were spent in Belcastel where he died 1986.
An artsy fisherman stands along the Aveyron river
in Belcastel.
We decide to make a short detour to Belcastel on our way to Millau. We park in a lot beside a grassy river bank where we have a picnic lunch before hiking up to the village. This path across a bridge and along the river bank was the only way to enter the village until the second half of the 20th century, and the short walk provides us with a memorable perspective of Belcastel.
An ancient stone urn beside Belcastel's church is filled with flowers.
Belcastel's 15th-century church contains the tomb of
its founder Alzias de Saunhac.
Our first stop is at the village church, Église Sainte Marie-Madeleine. Inside are a contemporary set of Stations of the Cross by artist Casimir Ferrer along with the tomb of Alzias de Saunhac, who had the church built in the 1400s. Saunhac, who was once Lord of Belcastel, also is responsible for the stone bridge. Halfway across the bridge is a cross and altar where those who crossed over would stop to pray and leave offerings.
Belcastel's Four a Pain Fagegaltier was constructed in 1953.
Scattered throughout the village are whimsical sculptures that seem to pop out of doorways and from behind trees. A pretty garden on the lane leading to the château contains several of these contemporary pieces of art.
Art seems to be everywhere in Belcastel.
A pretty garden appears along the stone path through Belcastel.
Belcastel has a number of cafés and restaurants, and a stop that the whole family may enjoy is La Maison de la Forge. This museum dedicated to the ancient trades of blacksmith, fisherman and clog maker, is open April through October. A visit to the museum can be combined with a guided visit of the village. For information, contact the Belcastel tourism office at 05.65.64.46.11 or visit the
Belcastel website here
.