The name most people associate with water lilies is Claude Monet — not Joseph Bory Latour-Marliac. But Latour-Marliac's contribution to water lily cultivation is arguably more significant than the famous French Impressionist, and some say that this lawyer-turned-horticulturist from south west France can share credit with Monet for making France the birthplace of the water lily.
Terra cotta pots have been perched at the edges of Latour-Marliac's
ponds for more than 135 years.
A statue of Joseph Bory Latour-Marliac stands in
the garden he founded in 1875.
Latour-Marliac founded a nursery in the Lot-et-Garonne village of Le Temple-sur-Lot in 1875. His mission was to propagate, cultivate and sell hardy néuphars — water lilies. He discovered a method of hybridization, a process that remains mysterious even today. This method allowed him to raise these flowers in a variety of colors, where previously only white water lilies were available in Europe.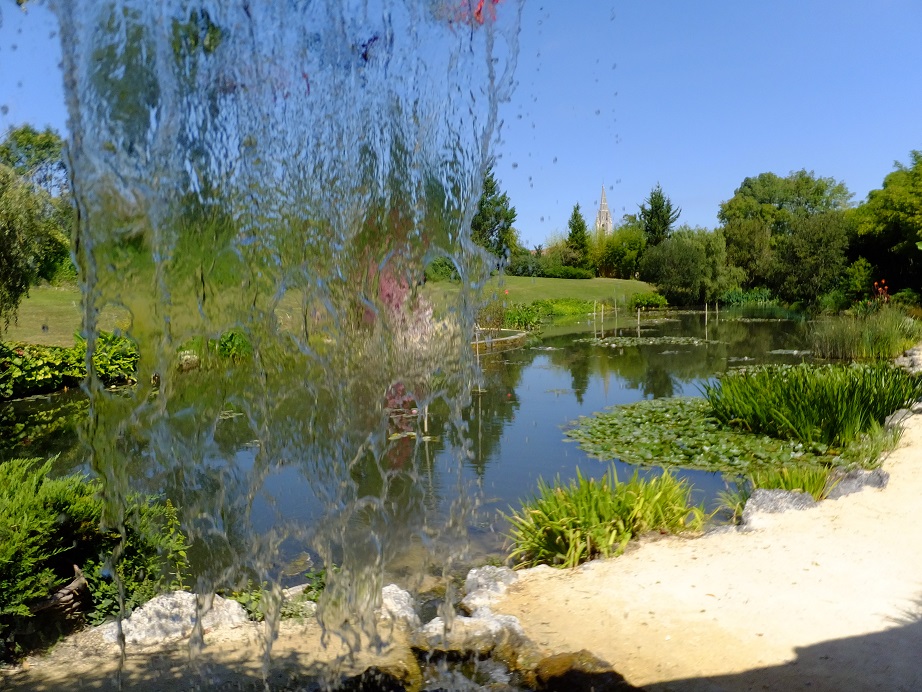 Pause behind the waterfall for a shimmery view of the pond and gardens
at Latour-Marliac.
In 1889 Latour-Marliac shared his collection at the Exposition Universelle in Paris, where his water lilies caught the eye of Monet. Soon afterward, the painter purchased the property called Giverny and began to build his water garden. Once complete, Monet ordered lilies from Latour-Marliac, which he famously painted. In addition to the splendor of Monet's Nymphéas, the artist "was consciously capturing on canvas a botanical novelty," according to the Latour-Marliac visitor's guide. Today, the best of Monet's water lily series can be seen at the Musée de l'Orangerie in Paris.
What a lovely view from the terrace at Café Marliacea.
Closer to home, water lily and garden fans can visit Latour-Marliac each year from April 15 through Oct. 15. (The restaurant closes Sept. 30).
Giant Amazonian water lilies are cultivated in the greenhouse at Latour-Marliac.
Our recent self-guided tour starts in a greenhouse where we meet Victoria, a breed of giant Amazonian water lily, and continues past 65 cultivation pools where more than 200 varieties of lilies grow. Of course, the garden contains more than water lilies. Along the garden paths, we discover lotus blossoms, flowering trees, exotic plants, colorful koi and a bamboo grove. Latour-Marliac was a famous bamboo expert prior to his success with water lilies.
Before he turned his attention to water lilies, Latour-Marliac
was a famous bamboo expert.
Colorful koi make their home in a pond at Latour-Marliac.
In addition to plants, the garden contains a small museum, a gift shop and a lovely terrace restaurant, Café Marliacea, where my friend Lucie and I enjoy a delicious lunch. A portion of our admission is credited to our lunch tab, but visitors can opt instead to receive a discount on the purchase of a lily or lotus to take home.
The admission ticket to Latour-Marliac garden provides
a discount at its restaurant, Café Marliacea.

Lunch at Café Marliacea is topped off with a café gourmand.
Latour-Marliac received a Jardin Remarquable designation in 2004. For more information, visit the
Latour-Marliac wesbsite here
.
Summer blossoms offer a burst of color at Latour-Marliac.
Tropical trees dot the garden landscape at Latour-Marliac.