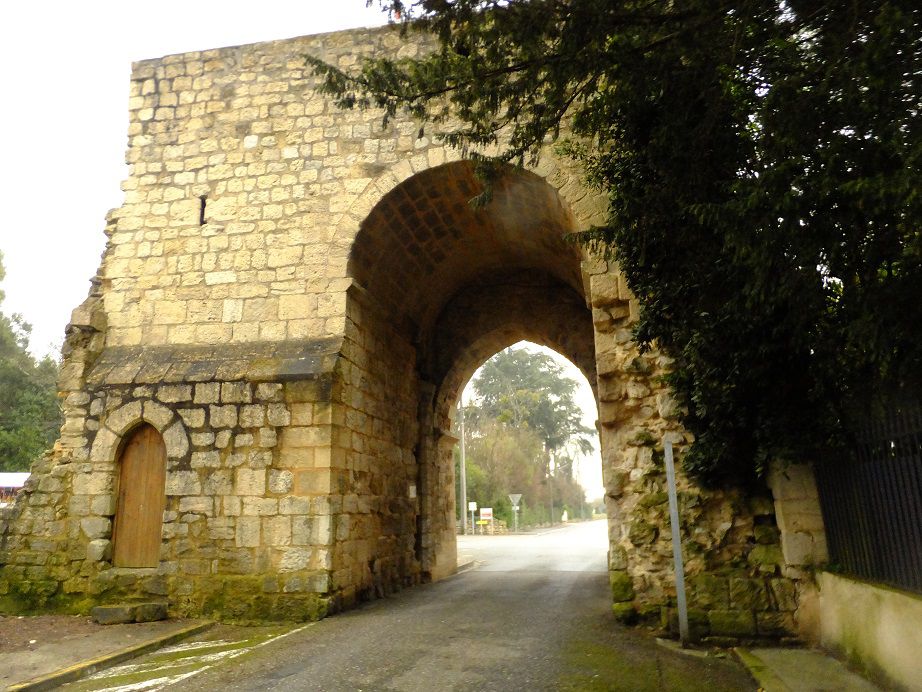 An original stone gate serves as an entrance to Sauveterre-de-Guyenne.
The pretty bastide of Sauveterre-de-Guyenne is doing something right. On our recent visit to this small village in the Entre-Deux-Mers area of the Gironde department, my husband and I are impressed with the array of shops that line the four sides of the arcaded square. Where we often see empty storefronts in many villages we visit, this tidy town of around 1,800, seems to be thriving with boutiques, a florist, a used bookstore and several cafés along with the usual supects: boulangerie, pâtissere, tobac, pharmacie, boucherie and immobilier. Clearly, this is a village that benefits from support and cooperation between its government, merchants and residents.
Sauveterre-de-Guyenne contains a healthy array of stores, eateries
and other commerce beneath its 14th-century arcades.
Charming touches and attention to detail add to the appeal of
Sauveterre-de-Guyenne.
Although Sauveterre isn't a huge tourist destination, the greeting we receive at the Office de Tourisme is among the most friendly and helpful we've had. Daniel provides us with a map of the Entre-Deux-Mers and offers us suggestions of places to visit. He also gives us keys to two attractions. Since we've promised to return les clés before lunchtime, we directly head to the post office at the end of the block, open a gate and descend into well-preserved stone cellars which house informational exhibits and artifacts.
Well-preserved cellars beneath the plaza in Sauveterre-de-Guyenne
contain artifacts and information about neighboring villages.
All four original stone gates at the entrances to Sauveterre are standing: Porte Saint-Léger to the north; Porte Saint-Romaine to the east; Porte de la Fonte to the south; and Porte Saubotte to the west. The second key given to us at the Office de Tourisme unlocks a door to Porte Saubotte. We climb the narrow steps all the way to the top where we enjoy a breezy view of the entire village and its environs. On the way down, we step inside a couple of chambers that contain displays detailing the history of Sauveterre-de Guyenne.
Climb the steps of Porte Saubotte in Sauveterre-de-Guyenne and you're
rewarded with a bird's-eye view of the village and surrounding countryside.
Although not crazy about heights, my husband manages a smile
atop an ancient stone gate in Sauveterre-de-Guyenne.
What's on my mind after my visit to Sauveterre-de-Guyenne's
gate is what's for lunch.
It's market day in Sauveterre, but the vendors are just closing up as we return to the central square. We're hungry and have a choice of several places to eat. We choose a small
resto
and enjoy what may be the best kebabs we've ever had.
After lunch we check out Église de Notre-Dame. Much of the 13th- to 14th-century church was damaged during the French Revolution and a fire, and was subsequently restored in the 1800s. A sundial is embedded in an exterior wall at the back of the church.
Église de Notre-Dame in Sauveterre-de-Guyenne was
built in the 13th to 14th centuries.
Perhaps the walls that once protected Sauveterre-de-Guyenne should
have been higher: The bastide changed hands 10 times during
the Hundred Years War.
Sauveterre-de-Guyenne's war memorial
This vast triangle-shaped area east of Bordeaux between the Garonne and Dordogne rivers — hence the name Entre-deux-Mers — contains a wealth of charming attractions and natural beauty, which I look forward to exploring in the upcoming months and sharing with you on this blog.